1. Leg update
So for those of you who patiently listened to me whine about my leg for three weeks and swear that I had the beginnings of a stress fracture, I have an update. I took last week off except for the half marathon on Saturday. I cross-trained like a motha, but I did not run. Except once to the mailbox because I was excited to open it. Don't you feel that way about mail some days?
The great news is that on Saturday, I felt a small bit of pain at the bad spot on my leg in the beginning of the race and running up the major hill, but after that I didn't notice it. I kept waiting for it to kill the next day, but it didn't. Then the miracle. I ran 5 miles on Monday, and I felt nothing! No pain, no twinges. Nothing.
Wait a minute -- so you're telling me that this resting stuff might actually work?
2. Cool idea alert
Just to be safe with my newly healed leg, I took Tuesday off from running and played volleyball with some local moms. Cool idea alert: we brought all of our kids (about 15 total), and each mom did a 10-minute rotation babysitting. So we got to play a little over an hour, and our kids had fun chasing each other around a room. I was tempted to think that volleyball might not be a workout, but that would be wrong. It was hard, and I smelled like a dirty man after it was over. And I have bruises! I have missed my soccer league bruises since we moved to AL, so it's nice to have replacement bruises. Anyone want to join us?
3. Random thought.
I just saw a bumper sticker like this yesterday.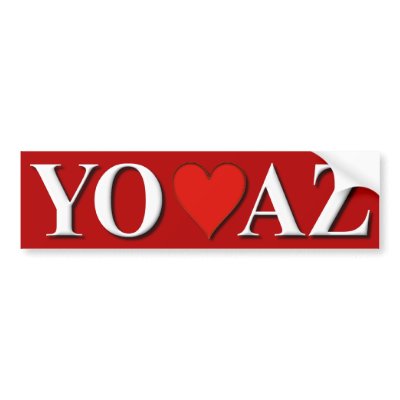 And it forced me to translate my blog name into Spanish. I momma runs. Maybe I should rename it Yo Soy Yo Momma for I am yo momma. Either way, it made me laugh. Super easy to accomplish some days.
4. Embarrassing moment.
Some days at the gym you feel all cool running the track until your realize that you did this.
Yup, inside out. This is the point when you wonder if it is better to leave it and act like that was totally planned to stretch your wardrobe or change it and send the "I am an idiot who dresses in the dark" message to anyone who may have noticed. And I voted to change it. Sometimes it's better not to keep secrets.