*Last day to
enter to win
a
Handful bra
.
Workout: Yay, yay, yay, I finally went running today. Sometime while I was eating my second dinner at Moe's last night, I decided that I would get up early and run ten miles. Otherwise the heat and dealing with kids would leave me unmotivated to hit the skreets. I laid out clothes and the Garmin before bed so that I wouldn't be banging around as much in the morning, and I managed to sneak out without waking anyone up. The results: 10 miles in 1:22. It feels so refreshing to have that done before breakfast.
I veered off the neighborhood track for just a moment, until I ran into a junkyard dog on the loose and a strange fellow on a motorized bike. Not a motorbike, a motorized bicycle. But for a minute, it was glorious.
Humidity causes foggy glasses.
The best news: negative splits!
Some even better news -- the x-rays showed that this guy does not have a broken foot. Just really bruised, but his hobbling has already lessened.
Though in a twin fight, he goes down first because his balance is suffering.
Other than squabbling and pushing each other, the kids stay busy eating all of the great snacks we've got going on around here. We call this special recipe Redneck Rolls. Roll bologna and processed cheese and stake it with a corn holder.
What do you do when your carrots dry out? Rehydrate.
After a long day of swimming (and more swimming), the kids settled down with some more salty snacks and a movie, while the ladies took off for girls' night.
My daughter had her own girls' night with her friend twin.
We met this adorable baby for the first time. Picture perfect little innocence.
So of course I tried to creepily sneak in and steal her.
And on to some of the great running deals I've been seeing online lately.
Today's
Schwaggle deal
is $30 for $60 worth of
SLS3 compressions socks
. I haven't tried this brand, but half off is a good deal, and they have these snazzy butterfly socks.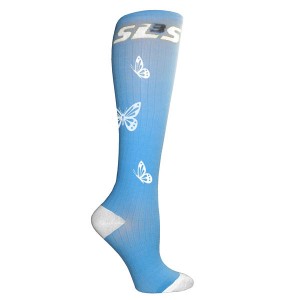 I know some of you love Skirt Sports, so I wanted to pass along this info about
their mega sale
, where you can save 50-70%. Also, with the coupon code ACTIVESKIRT you can save an extra 10% plus get free shipping. The sale lasts a couple more days until July 2nd, and the coupon code is good until July 25th.
When I looked this skirt was on sale for $24 before the extra percent off. Pretty cute. Sizes are limited though.